The company, Calming Blankets, launched in Adelaide, Australia in 2017, and has launched in the UK earlier this year, with its head offices in Northampton, just one hour from the centre of London.
Weighted blankets are available ranging from 4.5-9kg, with a inner bag of weighted pellets, to adjust the size accordingly, with a mink soft blanket on the outside which is machine washable.
Originally used in the 1980s in mental health wards and hospitals, the heavy duty blanket or 'weighted blanket' was used to calm down nervous or anxious patients, giving them the sensation of a 'warm hug.'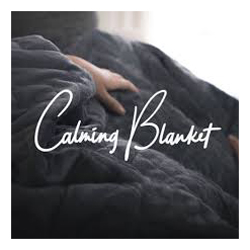 Today, it has become part of the fast-growing industry of sleep, anti-stress and wellness products - and it has quickly become a must-have for every household or those looking to relax on the couch after a long day.
By triggering the nervous system and increasing the body's spatial awareness, weighted blankets are said to have a calming effect – and were historically used to help patients suffering mental illness.
The science behind it is that the brain is continually sending signals around the body to try to place it in a given space, and when there is insufficient feedback from these signals, it gets confused, which can lead to restlessness and stress.
Therefore, applying a certain weight to the body can activate the nervous system and help to provide the brain with the proprioceptive input it requires. By using a weighted blanket the brain can better understand where the body is in relation to its surroundings.
Calming Blanket's products took a year to design and there are now a wide range to choose from, including those designed for children. The startup sold over 50,000 units in its first year in Australia through online and brand awareness created through social media and word-of-mouth marketing.
All of Calming Blanket's weighted blankets are created with enough inner ties to ensure even weight distribution, soft fabric, and varying weights to personalise and are available in granite, white or navy.
The full range can be found here.